Mayu Mineda
Jump to navigation
Jump to search
Mayu Mineda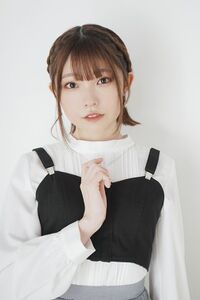 Voice Actor Profile
| | |
| --- | --- |
| Name: | 峯田茉優 (Mineda Mayu) |
| Nickname: | だまゆ (Damayu) |
| Birthplace: | Nagano, Japan |
| Birthdate: | Nov 28, 1998 |
| Height: | ? cm |
| Age: | 23 |
| Blood Type: | ? |
| Agency: | VIMS |
| Occupations: | Voice Actress |
| Hobbies: | Crane game, Karaoke, Drawing, Dancing |
External Links
Mayu Mineda (峯田茉優 Mineda Mayu) is the voice actress for Meguru Hachimiya. She is affiliated with VIMS. Graduated from Japan Narration Acting Institute. Her hobbies are crane game, karaoke, drawing, dancing and solving mysteries.
Ms. Vampire who lives in my neighborhood as Girl A
Merc Storia: Mukiryoku no Shounen to Bin no Naka no Shoujo as Child
THE IDOLM@STER Shiny Colors as Meguru Hachimiya
Kurokishi to Shiro no Maou as Erurūn
Brown dust as Eldora
Phantom of the Kill as Nīru
Formation Girls as Ōyama Masumi
Gunvolt Chronicles: Luminous Avenger iX as RoRo
Was in Seriously! AniLove Radio Blog (shared with other radio personalities, from 10/2017 to 09/2018)
Hosts 阿部里果・峯田茉優の「隠し玉!」along with Rika Abe, voice actress for Mizuki Makabe from THE IDOLM@STER MILLION LIVE! [1]