Juri Saijo
Jump to navigation
Jump to search
Juri Saijo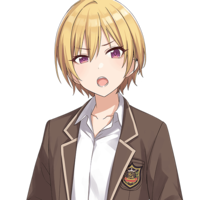 Character Data
| | |
| --- | --- |
| Name: | 西城樹里 (Saijou Juri) |
| Voice actor: | 永井真里子 (Nagai Mariko) |
| Age: | 17 |
| Height: | 160 cm |
| Weight: | 48 kg |
| Birthday: | November 26th |
| Blood type: | O |
| Three sizes: | 75-58-78 |
| Hobbies: | Western music, Games |
| Skill: | Sports, Basketball |
| Likes: | ? |
| Handedness: | Right |
| Horoscope: | Sagittarius |
| Hometown: | Kanagawa |
| Image Color: |      |
Signature

Juri Saijo is one of the idols that can be produced in THE IDOLM@STER Shiny Colors. She is voiced by Mariko Nagai. She is a member of the unit Houkago Climax Girls.
Profile and Character Description
[
edit
|
edit source
]
"Me, as an idol? Do I look like I could be one?!"
A cool, boyish girl. Her manner of speaking tends to be rough, leading some to be afraid of her, but she's just a really pure-hearted girl who just has trouble expressing her with her feelings. She is in her 2nd year of high school.
Initially, Juri thinks that she isn't fitting to be an "idol" and doubted the producer words. But despite her slightly deliquent demeanor, she constantly support her friends, such as when she helped Chiyoko when she was searching for a individuality for herself, or when she helped Kaho doing her homework and participated in one "tokusatsu theatrical presentation" in the office that she made. However, Juri gets shy when people mention her kindness.
Click here for character specific commus.
Yumesaki After school
Taiyou Kiss
Beach Braver
Yorimichi Sunset

Spread the Wings!!
Multicolored Sky
Let's get a chance
SNOW FLAKES MEMORIES
Ambitious Eve
Itsuka Shiny Days

When younger, she used to watch Tokusatsu with her older brother.
She's not good with technology.
For other official art and 2D outfit sprites, click here.