Fuyuko Mayuzumi
Jump to navigation
Jump to search
Fuyuko Mayuzumi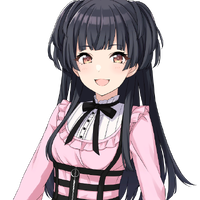 Character Data
| | |
| --- | --- |
| Name: | 黛冬優子 (Mayuzumi Fuyuko) |
| Voice actor: | 幸村恵理 (Yukimura Eri) |
| Age: | 19 |
| Height: | 163 cm |
| Weight: | 55 kg |
| Birthday: | December 4th |
| Blood type: | A |
| Three sizes: | 78-59-81 |
| Hobbies: | "Chatting with friends ♪" |
| Skill: | "Becoming friends with everyone ♪" |
| Likes: | Cute things |
| Handedness: | Right |
| Horoscope: | Sagittarius |
| Hometown: | Ibaraki |
| Image Color: |      |
Signature

Fuyuko Mayuzumi is one of the idols that can be produced in THE IDOLM@STER Shiny Colors. She is voiced by Eri Yukimura. She is a member of the unit Straylight.
"I want to make everyone smile! ──If I said things like that, it would make people like me more, right?"
Fuyuko is a neat girl with a modest smile. She gets nervous easily and loses her temper when stressed, but doesn't want people to worry about her insecurities. Fuyuko acts in a way that will make others like her more, like enjoying cute things and being attentive to her surroundings. One of her concerns about being an idol is not meeting the standards of others. Although she tends to be mean to the Producer, she is really grateful to him for being supportive of her and respects him a lot. She is in her first year of vocation school.
Producer meets Fuyuko while scouting in Akiba. When asked about becoming an idol, she changes her bubbly demeanor and answers that she never thought of becoming one. Fuyuko explains that only cute, attractive girls have potential to be idols and says they're the complete opposite of her. Fuyuko then asks Producer if he really thinks she could become one. When he chimes in, she immediately goes back to being cheerful, agrees and thanks the Producer for scouting her, leaving him confused. When Fuyuko gets to participate in a photoshoot for her favorite magazine, the photographer tells her to act more natural. Despite trying her best, Fuyuko is criticized for looking too stiff and wearing a fake smile. Eventually the photographer gives up on instructing Fuyuko. Afterwards, the Producer approaches her and tries to console her. She suddenly gets carried away and says it's impossible for her to show her real face and smile genuinely at the same time. Fuyuko tells the Producer that she thought that pretending to be nice will help her get through all the gigs as an idol. After some time passes, she finally has an honest conversation with the Producer. Fuyuko tells him that she thought about quitting due to all the overwhelming pressure but she had decided to come to terms with her real self and show her honest side to everyone. She then says she wants to try again and become an idol people can empathize with.
Click here for character specific commus.
Wandering Dream Chaser
Transcending The World

Ambitious Eve
Itsuka Shiny Days
She refers to herself in third person as "Fuyu" and prefers when people call her that instead of her full name.
Her hobby is cooking.
For other official art and 2D outfit sprites, click here.